With prices at the pumps climbing, everyone is buying a bike in Saskatchewan this year. No seriously, even grandma is buying a bike this year. But ya gotta hurry in because stock is limited. The snow has melted and we are here for it.
Get the bike shop scoop
Not too long ago the only bikes on the market were a 10-speed, mountain bike or BMX. Chances are your "new" bike was an old bike kicking around in your parents' garage or if you were lucky you got it on sale at a big box store. We're here to tell you there is so much more and cycling has (thankfully) exploded from simple functionality to hardcore sport, commuting and style. Let's dig into what you want, what you need, and everything in between. Keep reading for a deep dive into everything cycling and we'll help you get a grip on your new whip.     
Types of Bikes or Bike Options
So, what kind of bike do you need? 
Whether you are crushing asphalt, cruising bike paths, getting lost on gravel roads, or sending it on the single track, having the right kind of bike will make your experience more enjoyable. We choose our bikes based on how and where they are made, why a rider needs or wants a bike and how we can help you find the best ride. Below we've got answers for you to determine what kind of bike you need.
1. Mountain Bike

 There are two types of Mountain bikes: Full Suspension mountain bikes and Hardtail mountain bikes. Although there are exceptions to where and what people are looking for in their selection of Mountain Bikes. 


Hardtail mountain bikes are typically more efficient to pedal, but a little rougher when riding off-road. 


Full Suspension mountain bikes are usually geared to the more aggressive rider looking to plow through rougher terrain.
Best Mountain Bikes:
At Outtabounds we love the Giant Talon 2 and the Giant Talon 3 for the recreational rider looking for the options of getting off the beaten path. 

For the more adventurous hardtail rider we recommend the Orbea Lauffey.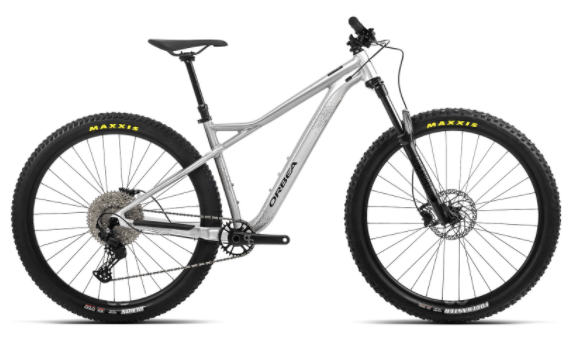 If you are looking into getting into a full suspension, and price is a concern look no further than the Giant Stance. This is the perfect starting point to get your feet wet (and muddy) in the single track. 

When the budget is less of a concern, one of the staff favourites is the Santa Cruz Bronson. This fabulous bike is not in stock yet but we are waiting. Impatiently.

2.

Gravel Bike

/Hybrid Mountain Bike

When selecting a bike, there are SO many options on the market. Brands, styles, colours and more…. If you are unsure of the primary purpose of your bike you should check out the Gravel/Hybrid category. This category is like the Swiss army knife of bikes. Ride it on road, off road, on gravel, or single track. 
Drop Bar or Flat Bar?

A drop bar is a bar that has been dropped down lower to allow for the rider to crouch low when going downhill or riding into the wind. Basically, it makes your ride a heck of a lot easier by reducing drag and letting you go faster and farther.


A flat bar is, well, flat. If you don't like drop bars, you've got the flat bar to make you happy. It will still give you that great assist at hunching down to get that faster speed but with that smooth line straight across.
Still not sure? Come on down to the shop, we LOVE to talk bikes. We live for bikes. Bikes are life.
Best Gravel Bikes
When crushing gravel, and going for the KOM (King of the Mountain) the Scott Speedster gravel is your go anywhere, go fast bike. Speed is in the name, this thing wants to go fast, all while being able to ride it in all types of conditions. 

When looking into more Hybrid style bikes the Giant Roam or Liv Rove series stand outs. Coming in at multiple build levels and prices there is sure to be a bike in this category for you. 
3. Commuter Bike
We all know gas is getting MORE and MORE expensive so why not beat the traffic jams and get out on your bike. Thousands of people in Saskatoon use bicycles as their main form of transportation year round. Do you have it in you? 
Best Commuter Bike
Although we see a lot of people riding the hybrid style bikes for commuting, we really like the weight savings of ditching the front suspension fork and going full rigid. Check out the Cannondale Quick for your commuting needs. 

4. Cruiser Bike/Comfort Bike
When upright geometry and comfort are some of the main things you are looking at in a bicycle the cruiser of comfort program is where you want to be. Cruiser bikes got their starts in the beach communities of California, but have migrated all across the world. When speed isn't necessary, but comfort and leisure are, make sure to check out this series of bikes.  

Beach Cruiser Bike/Comfort Bikes
Oh boy do we love the Cannondale Adventure series. This foot forward pedalling bike screams comfort. Select models offer adjustable stems to get the body geometry just right, while the foot forward pedaling makes even the most timid rider ooze with confidence. 
5. Electric Bike
We hear this day in and day out: 'But I am riding my bike for fitness' 
Well if you have that mentality we are here to tell you, guess what? Riding an Ebike still gives you your fitness, you just get to ride further and longer. The stats are coming in, and we are seeing the average rider burning the SAME amount of calories in the same time frames, however when on an ELECTRIC Bike they just travel twice as far. Also the anaerobic aspect is pretty similar, 7% difference in peak heart rate. That's right, you can ride an electric bike, get your exercise, and cover more ground in the same amount of time. 
Best Electric Bike
Once again it is all about application, however if you dive back into the first 4 categories chances are there is an electric assist version of that bike. If we had to pick a favourite we'd go with the Orbea Optima.

When to buy a new bike?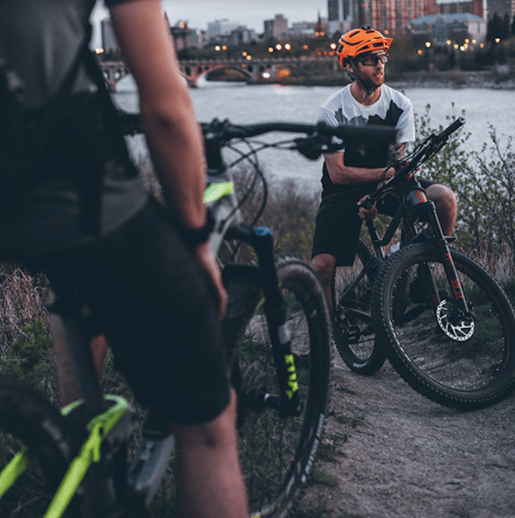 Now, the time is now. Cycling is not just a hobby for a fringe group of eco conscious, adventure seeking outliers, and has become a popular form of commuting, even year round. Because Sasky folks are hardcore. Like, salt of the earth, really hardcore. It's always a good time to buy a new bike and because we are going to see limited stock again this year from the virus that shall not be named it's best to start shopping early. (hint, it's April, now is early)